During Sunday School and Children's church, we are going through the Gospel Project curriculum, providing a worship and learning environment for children.
"Team Kids" – learning about God in a fun team based environment. 
Our kids are going through Bible drills – learning the books of the Bible.
discipleship/missions program
Pine Springs in located in Laneville Texas 11 miles south of Henderson Texas of Hwy 259. It is snuggled back in the pine trees of East Texas www.pinespringsbaptistcamp.com
It is for kids who have completed 3rd grade thru 6th grade
There will be a mandatory meeting on 6/11 at 5:00 pm for all those planning to go to camp.
The weekend of July 14 - 16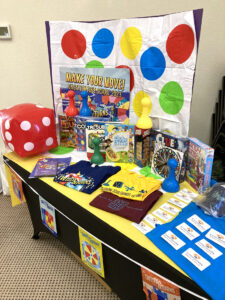 This year, our kids will pass go and collect the truth about Jesus in "Twists & Turns." 
Kids will play their way through VBS while learning that Jesus guides them through the ups, downs, and zigzags of life. Most importantly, kids will encounter the gospel and learn that sin's message of "game over" is overcome through Jesus' life, death, and resurrection.
The biblical lessons in "Twists & Turns" flow from the motto "Following Jesus changes the game". We will learn Bible stories centered around Jesus and the life of Peter.  Peter was bold and fearless at times, and the next minute he was cowering in denial. He had big successes and big failures. In short, he's just like us. Our hope is kids will see themselves in Peter and choose to place their trust in Jesus as their personal Savior. That's what VBS is all about.
Lesson 1: Jesus is holy. Bible story: Peter followed Jesus.
Lesson 2: Jesus is trustworthy. Bible story: Peter walked to Jesus on the water.
Lesson 3: Jesus is forgiving. Bible story: Peter denied Jesus and was restored.
Lesson 4: Jesus is worth following. Bible story: Peter spoke boldly about Jesus.
Lesson 5: Jesus is for everyone. Peter told Cornelius about Jesus.
Kids will discover it's not all smooth sailing in the game of life—even after becoming a Christian. When we trust Jesus as Savior and Lord, He changes our trajectory. When we follow Him, He leads us down the right paths. And when we mess up, He's ready to forgive us and get us back on track.
We will be opening registration soon for children from infants up through 6th grade.  (you will register your children for the grade they have just completed).  
We are still working out some final details and will be updating this page as we make decisions.  If you would like to be on the mailing list to receive information as it comes out, please contact us.